Angelo Romano is awarded the Otto Hahn Medal for the year 2019 by the Max Planck Society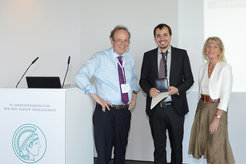 Every year, the Max Planck Society awards a selection of junior scientists the Otto Hahn Medal for their outstanding scientific achievements. Angelo received the prize for his work on human cooperation and parochial altruism across societies.
The prize is intended to motivate especially gifted junior scientists and researchers to pursue a future university or research career. Since 1978, more than 970 scientists and researchers have been awarded the Otto Hahn Medal. The award was presented during the general meeting of the Max Planck Society in Hamburg.